Elizabeth Gee Irwin Descendents
Elizabeth Gee Irwin, known as "Lizzie Gee", "Mom Bell", and "Mommy" was the daughter of Cunningham Irwin and Elizabeth Maxey Irwin, the grandaughter of John2 Irwin and Jemima Stockton Irwin, and great-granddaughter of John1 Irwin and Elizabeth Cunningham. Elizabeth was born 11 Apr 1873, in Horseshoe Bottom, Russell County, Kentucky. She married three times and had six children. She overcame several tragedies and setbacks in her life and continued in the loving memories of her children and grandchildren as a lively, intelligent woman who would sing 'Froggie Went a-Courtin' and other folk songs to them.



About the tender age of 15, Lizzie Gee married, on May 31, 1888, Mr. Rhodes E. Sloan (born Oct 10, 1868), possibly the son of Clifton Sloan. Rhodes was a few years older than Lizzie and they traveled to Texas at least once during their marriage. The Sloans had three known children - new information leads us to believe there were five: Mr. Sloan probably died in 1899. It is unknown at this point exactly when he did die or what of.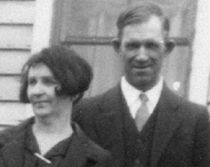 Elizabeth Gee and John William Bell,
ca. 1920's
Photo courtesy Jack Coleman



On January 3, 1900, Lizzie Gee married John William BELL (born Apr 22, 1873 and died Feb 3, 1938), son of Martha Evalyn BELL of Wayne County, Kentucky who was the daughter of John Silas BELL and Ruth SIMPSON BELL. John William, also known as, "JW", "Jack" or "Poppy" to his kids and grandkids, was a fine cabinet maker, but tried to make a living farming in Kansas at least once. John William's family has been quite a mystery for many years. We still do not know who his father was. He had two siblings -

Cicero C. BELL

, and Laura Myrtle BELL - who both ended up in Nebraska with their families. Martha Evalyn BELL moved out there in her later years and lived with her daughter Laura, eventually, leaving this life in her 80's in 1928.



Lizzie and JW had three sons:
Fred BELL, born Aug 11, 1902, married Cathleen COMER. They had three children.
Ray BELL, born March 24, 1907 married Betty ---?. They had one son.
Glen BELL, born Oct 28, 1914, the youngest son, married Thelma KINNETT. Glen was a fun-loving fellow who as a young man didn't back down from a challenge, or a fight. "Whitey", as he was known as a young man, worked two jobs through high school. He was athletic and went to college one year on a football scholarship. While there he would do laundry for people to help meet his expenses. He loved learning new things and kept that trait all of his life.

He was very close to his parents, and when his father died in February of1938, unexpectedly, his life began to change. He married in November of that year and the next November they had the first of two sons. The following January, they moved to Illinois where Glen began his career working with the Sohio Oil Company. He retired from the company after many years, including six weeks in Alaska helping to oversee part of the laying of the pipeline there. Glen was also a talented self-taught artist and musician.
Lizzie Gee married Mr. Winfield Canada, a widower, some time after John William died. Before pre-nuptial agreements were in style, they had one that was understood. Both wanted to be buried next to their previous spouses. This was a mid- to later-in-life marriage so there were no children to this union. Mr. Canada had children from his first marriage. It is thought that he was a bit younger as well.

Elizabeth Gee Irwin Sloan Bell Canada died in 1962 and is buried beside John William Bell in a cemetery in Jamestown, KY.



This page last updated September 30, 2001.
© copyright 2001 Carla Smith