Cunningham IRWIN Descendents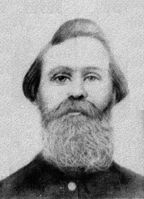 Cunningham IRWIN
scanned image from a charcoal portrait
Civil War Era


Cunningham IRWIN, one son of John1 Irwin and Elizabeth Cunningham, was born 27 Jun 1827 in Clinton County, Kentucky, and married Elizabeth Ann MAXEY, daughter of Radford MAXEY and Susan HALSELL MAXEY of Monroe County, Kentucky in 1853. He died Jan 1879. Cunningham was a farmer who built a home on the Cumberland River in Horseshoe Bottom in Russell County, KY. He served in the Civil War - on the Union side.
---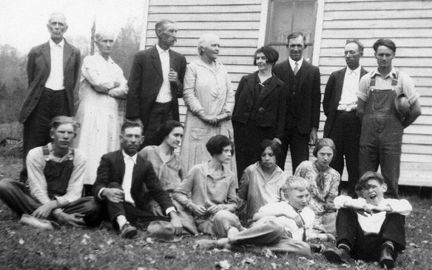 Cunningham and Elizabeth Irwin's surviving children and some grandchildren, ca. 1920's
Standing: Uncle "The" Theodore Blankenship and his wife, Lucetta "Set" Irwin Blankenship, Uncle "Ance" Anderson Blankenship and his wife, Gemima Evaline "Aunt Lily" or "Big Lily" Irwin Blankenship, Elizabeth Gee "Lizzie Gee" Irwin Bell and her husband John William "JW" or "Jack" Bell, Radford Blankenship, Dora Blankenship.
Seated back: Jim Irwin, Maxey Blankenship, "Little Lily" Reynolds, Sally Blankenship, Myrtie Blankenship and Mary Irwin.
Seated front: Glen Bell (son of Lizzie Gee and JW Bell) and Jack Coleman (grandson of Lizzie Gee Bell)
---
Cunningham or Ham, as he was known, and Elizabeth had nine children:
Mary F(or T.) IRWIN born 11 Feb 1854


Alfred B. IRWIN born 1 Nov 1855


Lemuel C. IRWIN born 23 Jul 1857


Lucetta Susan "Set" IRWIN born 30 Sept 1860; married Theodore "Uncle The" BLANKENSHIP; lived in Horseshoe Bottoms.


Sarah/Sallie L. IRWIN born 26 Jul 1863


James F. IRWIN born 21 Jan 1869(?) - sister wrote James was born Dec. 26, 1866


Jemima/Gemima Evaline "Aunt Lily" IRWIN born 10 Apr 1870 married Anderson "Uncle Ance" BLANKENSHIP
unknown children but did take in "Little Lillie Reynolds"


Elizabeth Gee "Lizzie Gee" IRWIN born 11 Apr 1873; married three times and widowed at least two times; died in 1962

1st Rhodes/Roads SLOAN - three (possibly 5) children
2nd John William BELL, son of Martha Evalyn BELL - three children
3rd Winfield CANADA - no children together

John Maxey IRWIN born 17 May 1876; died in 1879 choking on parched corn.


This information supplied by various family sources, some written, some oral sources. If you are related or know information to add to this information, please email me. I love to make contact with other extended family members and adding new information to that which we already have.
To see transcriptions of various documents and some census information on this branch of the family, click here


This page last updated November 15, 2001
© copyright by Carla Smith 2001